Travelling by train with your bike
On a cycling holiday in France, you may have to travel by train with your own bike. In particular, when you travel directly by bike to the starting point of the cycle route - or when you return from your destination.
Below you can find out what you need to know about travelling with your bike on a train in France, as well as our tips and useful links.
1. Bicycle boarding conditions
In France, the conditions for boarding bicycles varies according to the type of train (regional - high-speed trains (TGV), intercity, OUIGO, etc.), the region and the season.
In some cases, you can take your undismantled bike on board free of charge (generally on regional trains). On the other hand, sometimes you will have to reserve a paid space for your non-dismantled bike (generally on TGV, intercity and OUIGO trains).
Please note: not all bicycles are accepted on SNCF trains. Recumbent bicycles, tricycles, tandems and all types of trailers are not allowed.
You can find the details and boarding procedures for each type of train below.
2. Travelling by bike in a TER (regional trains)
Generally, the conditions for travelling with your bicycle in a TER are:
Free service.
Possibility to travel with a non-disassembled bike.
No seat reservations are required.
TER ticket: when you are looking for a train ticket, you must not choose the option "reserve a non-disassembled bike space" otherwise TERs will not be displayed.
Beware of:
The possibility of taking your bike with you is subject to the availability of places on the train. We recommend you avoid peak times.
Depending on the season and the region, this service is not available free of charge. We invite you to consult point 5 "Exceptions" and visit the sncf website.
3. Travelling by bike on an INOUI TGV and on an intercity train
Generally, when you travel on TGV INOUI or intercity train, you have 2 options:
Bicycle not dismantled: service subject to a charge (€10) - accessible only by reservation - bike needs to be put in a specific place.
Bicycle dismantled in a house (maximum size 130 x 190 cm): free service - without reservation.
Beware of:
For night-time Intercity lines, it is mandatory to reserve a space dedicated - service subject to a charge (€10).
4. Travelling by bike on an OUIGO train
Generally, when you travel on an OUIGO train (OUIGO Train Classique and OUIGO Grande Vitesse):
Bicycles must be dismantled and stored in a bag (maximum size 90 cm x 130 cm).
Service subject to a charge: you must subscribe to the "additional luggage" option when you buy your ticket.
Bike needs to be put in a specific place.
5. Exceptions
IN THE OCCITANIE REGION : from 16/04/2022, on weekends, school holidays "Occitanie" until 31/08/2022 on the line Narbonne - Toulouse, it is necessary to book a free bike coupon on the website of the region in addition to your train ticket.
IN BRITTANY REGION: from 1 June to 28 August, you need to reserve a place to travel with a bicycle in addition to your train ticket. This reservation is mandatory and payable (€1) on all trains running in Brittany (except the Auray-Quiberon line).
IN BOURGOGNE FRANCHE COMTE REGION: for the Ascension and Whitsun weekends, on the Paris - Dijon - Lyon and Paris - Morvan lines, for certain TER trains with a high number of passengers, it is necessary to acquire a bicycle coupon issued free of charge on the region's website in addition to your train ticket.
IN THE PAYS DE LA LOIRE REGION: from 11/06 to 11/09/2022, the LOIRE À VÉLO train is offering up 83 seats per train, including 17 in a dedicated area with assistance for boarding your bike (and up to 66 in self-service). Reservations (free of charge) are recommended for access to the dedicated area with boarding assistance (17 places).
In Ile-de-France, bicycles are allowed on all trains, including the RER in Paris, except during peak hours (Monday to Friday from 6.30am to 9.30am and from 4.30pm to 7pm).
In Alsace, the TER200 trains are closed to bicycles from Monday to Friday from 6.30am to 8.30am and 4pm to 6.30pm.
6. How do I reserve a bike seat on a train?
Then choose your "bike offer" (non-dismantled bicycle – bicycle in a cover, free service...).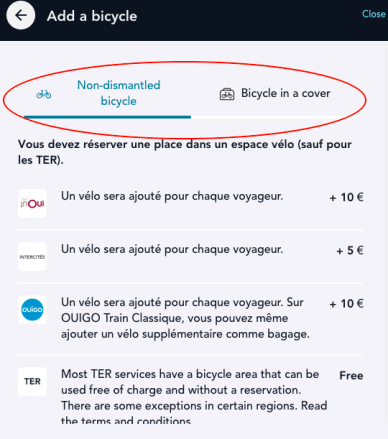 The number of bikes will automatically be adapted to the number of passengers (2 passengers = 2 bikes).
Please note: if the search of a ticket with a bike seat does not return any results, it means that the train does not have a dedicated seat or no more seats available.
Proceed with the booking of your ticket. If you wish to change only your bike seat, you will have to change your entire train ticket + bike ticket booking.
To make sure that you have booked your train ticket with a bike, check in the travel confirmation whether the bike icon appears.
7. Our tips
We strongly advise you to download the sncf mobile app prior to departure.
Arrive 30 minutes early to the train station.
Ask people - ticket inspectors if they can tell you if there is a lift or easier access to the platforms (sometimes lifts are hidden).
Avoid peak times (especially for TER trains with free service).
Never take the last TER (because if it is full, you may be refused access to the bike).
Locate the train's bike car.