French Bike Tours: designers of your perfect cycling holidays in France
We are specialists in organizing self-guided cycling holidays. We will take care of booking your accommodations, bicycles, luggage transfers and itineraries.
We are affiliated with Belgian, Dutch, Italian and Spanish and UK Bike Tours. In every country local specialists offer you the best the country has to offer. With offices in the Dordogne and the Loire area we are the one to contact for easy going touristic cycling holiday throughout France. This country has the most varied landscape with beautiful quiet cycling roads and more and more designated cycling paths. We have produced the most varied self-guided cycling Tours for you. Our multilingual team will be able to assist you in French, English and Dutch.



Arjan Capelle
It's no coincidence that I choose France as my country of adoption. The diversity of the country, its cultural heritage, and its proud habitants make me feel so much at home. As a hotelier by schooling and trade I tried to give all this to my guests, but as part of the French Bike Tours team I can finally let you discover so much more: France has it all!
Adrien Cottereau


I grew up in the center of France and I had the chance to travel a lot with my family to unforgettable places all over France, from Brittany to Provence, Alsace to South West. After Tourism studies, my taste for travel push me up to discover a part of the world during 5 years, often on foot and by bike : Asia, Australia, Central America and Canada where I worked in cycling holidays production. I came back few years ago, because I missed France so much, its landscapes, its rich cultural heritage, its exceptional culinary tradition and of course its wonderful roads for cycling : in one country you have all what you need!

Mélanie Caritte

Native of the South-West of France, I discovered very early all the treasures of our country and I wanted to share them with people, that's why I chose to study tourism. I would like to help you to discover the "French way of life" through the varied landscapes, history, culture, gastronomy, wines…and our very friendly cycling roads!

Marije Capelle
After lots of travelling and living abroad with my parents during my youth, I became addicted to travelling and discovering new places. When I met my husband, we decided to live & work in France. Being a hotelier since 2002 we welcomed many active walking & cycling clients. Since 2017 we started a new adventure developing French Bike Tours and now have the opportunity to create active holidays and share the best places in France with you. France is a very varied country, with beautiful landscapes and not to forget amazing food & wines! I now understand why French habitants tend to travel in their own country. So many lovely areas to explore. I would love to share my passion for France.

Lisanne de Jonge
Born in the Netherlands and raised in France made me never want to leave this beautiful country again! The diversity of all the regions, landscapes, gastronomy, history and people ... No wonder France is the most visited country in the world. It has something for everyone of us. Especially when you leave the main roads to enter the heart of rurality. Being part of the French Bike Tours team gives me the opportunity to share this all with you.
Charlotte Escoffier

I grew up in the South-West of France, but my family's origins come from all over the country, which has allowed me to live in several regions. My professional career in the hotel industry has also allowed me to discover other regions. Each region of France is unique. They have their own culture, their own gastronomy, architecture and very varied landscapes. And it is always with wonder I visit this country and that I have the pleasure to make you discover it through these bike tours.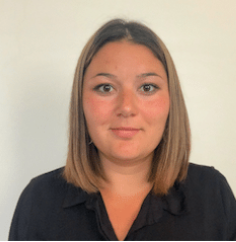 Manon Nevi
I joined the French Bike Tours team a year ago. After a master's degree in project management and cultural institutions, and being passionate about culture, I wanted to work in the tourism sector. With my colleagues I try to highlight as much as possible of all the beautiful things that France has to offer!